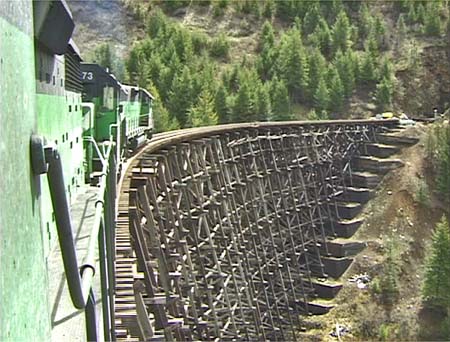 Take a ride on the Camas Prairie Railroad Second Subdivision from Grangeville to Lapwai, Idaho including complete coverage of Rock Creek and Lapwai Canyons. Riding the rear locomotive gives you a unique perspective of the locomotives as they cross numerous bridges, including famed Half Moon Trestle. Other highlights include switching the grain elevators in Cottonwood, Lawyers Viaduct, numerous tunnels, and more trestles than you can shake a stick at! Plus another camera is capturing the action from the caboose!
Digitally filmed in 1998.
Fullscreen (4:3) DVD format.
Run time 82 minutes.
Natural sound and music on Audio Track 1.
Natural sound on Audio Track 2.
Music only on Audio Track 3.
Location Subtitle on-off option.
In Stock and Shipping.
DVD $25